The MobileMapper 300 is a smart antenna designed to be used in combination with a wide variety of mobile devices, including smart phones, tablets, and notebook computers. The MobileMapper 300 solution is compatible with Android and Windows 8 mobile devices and is ready to work with any GIS application, provided that this application integrates Trimble SDK.
Featured highlights
Accuracy on many mobile devices

Compatible with Android (andWindows 8, end 2014)

Straight forward integration with any GIS application (Integration of Trimble SDK required)

Scalable from mapping grade to full RTK accuracy

Compact, light weight and configuration-free GNSS receiver

SPace control application for all required GNSS settings ( available shortly on Google Play ,free of charge)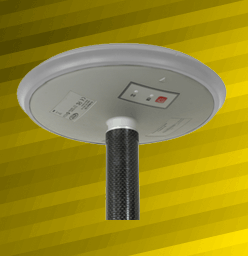 MobileMapper® 120 is the newest generation of handheld mapping devices from Spectra Precision. Designed for GIS data collection and mapping, the MobileMapper 120 integrates an open operating system, built-in communications and Ashtech's powerful Z-Blade technology.
Featured highlights
Sub-meter real time accuracy modes

Integrated communications

Flexible and powerful platform

Ruggedized for professional use

Very lightweight and compact design
Geographical Information Systems and Location Based Services are now being used in a wide range of applications and organizations. The growing need for geo-localization is naturally boosting the demand for efficient and affordable data collection solutions. Spectra Precision is leading the democratization of GNSS, enabling wider access to professional mapping. With MobileMapper 20, Spectra Precision makes it possible to deploy a professional accurate GIS receiver to any field work force.
Featured highlights
Secure Your Field Work
■A wide range of capabilities in a compact, lightweight design
■ Several days of battery life
■ Rugged and reliable

Unpack and Start Logging
■Ready-to-use complete mapping solution for field and office
■ User friendly Windows® Embedded Handheld 6.5
■ Easy-to-use software for short learning curve and quick logging operations

Ideal for Data Maintenance or Inspection
■ Log your assets in real-time with 1 to 2 meter accuracy
■ Connect field and office work force for maximum productivity
■ Achieve half meter accuracy with post-processing